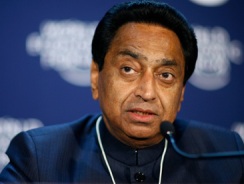 Allaying apprehensions of a food crisis in view of poor monsoon, minister of road transport and highways Kamal Nath said on Friday the country has enough foodgrain reserves to tackle even the worst monsoon situation.
"There is no panic. We have enough foodstocks to counter even the worst monsoon scenario," he said.
Nath, who was the commerce and industry minister in the previous government said an assessment of the impact of the poor monsoon can be gauged in the next two weeks.
"Whatever may be the assessment, the poor monsoon may impact rural purchasing power but not food supply."
Nath said the two factors of delay in monsoon in some parts of the country and poor rainfall in others have endangered the prospects of paddy and some other crops, but it is not yet time to be sceptical about foodgrain supply.
Separately the minister said India is likely to attract foreign direct investment worth $10 billion in the road sector in the next 2-3 years.
Image: Kamal Nath