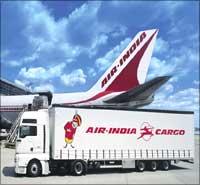 Cash-strapped National Aviation Company, which runs Air India, plans to offer some services like engineering, cargo handling and aviation training to other airlines in order to raise the much-needed cash.
With this in view, the state-owned airline plans to hive off its three business units - ground-handling, engineering, cargo and aviation training - into joint ventures or subsidiaries by the end of this financial year.
By marketing these services on commercial terms to other airlines, Nacil hopes to make up to Rs 900 crore (Rs 9 billion) a year - Rs 300 crore (Rs 3 billion) from each of the three. At the moment, it offers ground handling services to other players in the market. In fact, it already has a ground handling joint venture with Singapore Airport Terminal Services. However, it is still not operational.
This was a key element of the action plan submitted by Nacil to the high-level committee of secretaries set up to devise a revival strategy for the struggling airline, said a Nacil source. In addition, Nacil will generate additional revenue of Rs 1,800 crore (Rs 18 billion) annually and cut costs to Rs 1,300 crore (Rs 13 billion) through various measures.
These are the three key pillars of the airline's gameplan to shore up its finances by Rs 4,000 crore (Rs 40 billion) a year. Nacil had incurred losses of Rs 5,000 crore (Rs 50 billion) in 2008-09. The airline did not have money to pay the July salaries to its employees. Senior officials of the airline did not take salary on a request from the airline's chairman and managing director, Arvind Jadhav.
The committee of secretaries, which is headed by Cabinet secretary KM Chandrasekhar and includes aviation secretary MM Nambiar, finance secretary Ashok Chawla and principal secretary to the Prime Minister TKA Nair, was formed to look into the revival plan of Air India on a monthly basis.
The committee allowed the airline to rework wages and also set up a committee overseen by additional secretary (expenditure) Vilasini Ramachandran and key finance ministry officials to work out a financial package for Nacil.
Jadhav, in his first official press briefing recently, said the airline planned to start earning profits within 24 to 36 months.
He also announced that 54 flights a day would become low-cost services under the brand name Air India Express, its international no-frills arm. Air India currently operates about 300 flights a day, which means one-sixth of the flights will become low-cost services.
The airline will initially shift 10 aircraft, which now provide full services, on domestic routes to Air India Express. The airline's target is to shift 150 flights a day, or about half of Air India's domestic flights, in the near future to the low-cost arm.