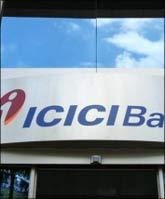 Car loans from ICICI Bank, the country's largest private sector lender, would be 50-75 basis points (bps) cheaper, while those from IDBI Bank would cost 100 bps less.
ICICI Bank, which has been a smaller player in the auto loan business for the last 12-15 months, said that the reduction in rates was on account of recalibration of certain categories. But it refused to term the move as a rate cut.
"We had several car categories/segments for which prices were in the range of 12.5-14.5 per cent (for a typical three-year car finance deal). There has been a recalibration of car categories which has led to adjustments in prices for certain car segments. Now, the customer rate would be in the range of 12-14 per cent after a 50-75 bps change," said a spokesperson for ICICI Bank.
As part of the loan-book restructuring, ICICI Bank had gone slow on lending and had also decided to reduce its focus on high-risk segments such as personal loans, credit cards and two-wheeler loans. However, it retained car loans, along with home and corporate loans, as a segment where it wanted to grow its book in the coming months.
During the current financial year, the bank is targeting a growth of up to 5 per cent in its loan book, and a lower interest rate in its preferred segments may see it claw back into the market.
At the end of June this year, auto loans at Rs 11,500 crore (Rs 115 billion) accounted for 12 per cent of the bank's Rs 96,000-crore (Rs 960 billion) retail loan portfolio. Its auto loan portfolio was estimated at around Rs 13,800 crore (Rs 138 billion) at the end of March. So, the June quarter saw a 16.5 per cent decrease sequentially.
The other lender to make auto loans cheaper, IDBI Bank, said that it had lowered the rates by 100 bps across segments. The revised fixed rates for three- and five-year tenures would be in the range of 10.50-12 per cent and 10.75-13 per cent, respectively.
The public sector player, which had not cut lending rates at the same pace as its peers due to higher cost of funds, also said that it had lowered deposit rates by 25-50 bps on some tenures. The maximum 50-bps reduction had been effected on 7-10-year deposits, the bank said.