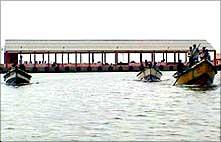 The Andhra Pradesh government will review the concession agreement it has signed with Maytas-led consortium for developing the Machilipatnam Port as the winning bidder for the over Rs 1,500-crore (Rs 15 billion) project has failed to tie up funds within the stipulated time.
Earlier, another consortium led by Maytas Infra, which is promoted by the kins of scam-tainted founder of Satyam Computer B Ramalinga Raju, had lost the prestigious, nearly Rs 12,000-crore (Rs 120 billion) Hyderabad Metro project for the same reason.
Replying to a question on development of ports in the state, Law and Technical Education Minister Mopidevi Venkata Ramana informed the state Assembly today that the Maytas-led consortium was required to achieve financial closure for the Machilipatnam Port project by April this year.
The minister said since the consortium failed to achieve the financial closure the state government would review the agreement.
The Machilipatnam Port in Krishna district would be developed at an overall cost of Rs 1,590 crore (Rs 15.90 billion), with three berths in the first phase. It would initially have a cargo handling capacity of 12 million tonnes.
"Because of the crisis in Maytas, a problem has arisen in execution of the project. Of the promised 6,000 acres, the state government has already handed over 412 acres of land to the consortium," Venkata Ramana said, in reply to a question raised by Congress MLA G Veera Siva Reddy.