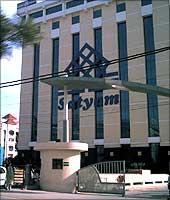 Larsen & Toubro on Monday said it is yet to take any decision on selling its over 8 per cent stake in Mahindra Satyam, but had sought market regulator Sebi's approval for offloading the holding in the IT company.
Market regulator Sebi has prevented bidders for Satyam from selling their stake in the firm for six months from the date of signing of the final sale agreement to avoid volatility in the scrip movement.
"We have approached Sebi to give us a waiver under the standstill agreement, but not taken any decision to sell the stake," an L&T spokesperson told PTI.
He said L&T would need to hold the stake in Mahindra Satyam at least till mid-October as per the standstill pact.
L&T, which was a minority shareholder in Satyam, had raised its stake to nearly 12 per cent through open market transaction in the run-up to the auction for Rs 172 crore (Rs 1.72 billion).
L&T's Rs 42 a share offer for Satyam was outbid by Tech Mahindra, which offered Rs 58 a share, and acquired 31 per cent in the tainted IT company for Rs 1,756 crore (Rs 17.56 billion) in April.
L&T's stake decreased to 8.31 per cent after share capital expanded. L&T's 8.31 per cent stake now would fetch it over Rs 827 crore (Rs 8.27 billion) at current market price.
L&T said that its investment is no longer a "strategic" one but should be seen as a "portfolio investment". "Since it is a portfolio investment, we can hold the stake in the company as long as we like," the official said.