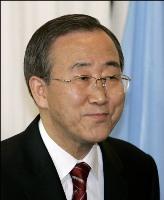 Noting that the world is currently passing through a phase of multiple-crisis, UN chief Ban Ki-moon said on Tuesday that none of these problems can be solved by any one nation.
Ban said this in his address to the World Federation of UN Associations in South Korea, where he has gone on vacation.
Talking about helping countries meet the Millennium Development Goals, he said, "This is not charity. It is solidarity." In an interconnected world, it is also an expression of enlightened self-interest since we are all in this together.
Referring to Darfur as a case study in both the success and shortfalls of the new multilateralism, he said that when the UN has a mandate, it will fulfill it. But when the members states give the UN a mandate, they must fulfill their obligations as well. That means ensuring that the UN has the resources needed to do the job, and to see that job through to the end, he said.
During his stay in South Korea, Ban met with a young patient at the National Cancer Center in Ilsan, Korea. Kwon Na-young, 17, who is suffering from a rare form of cancer, had told the Make-A-Wish Foundation that her wish was to meet Ban.
After she told the UN chief that her dream was to become a diplomat, Ban told her not to lose courage, according to the UN spokesperson here. Ban said that she could become a messenger of hope for all children throughout the world suffering from illness and hardship.
Image: Ban Ki-moon