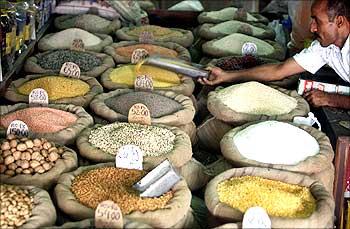 The average inflation for FY 10 will be modest at 0.5 per cent, higher than the earlier projection of 0.1 per cent, a leading economic think-tank said in its latest report.
The upward revision is mainly on account of a spurt in the prices of sugar, khandsari and gur, the report said, adding the upward revision is sharp, yet negative as compared to the 8.3 per cent average inflation recorded in FY 09.
"The Wholesale Price Index will start rising (after November) and inflation is expected to reach three per cent by the end of March 2010, Average inflation for the year will be modest at 0.5 per cent," Centre for Monitoring Indian Economy forecast in its monthly report on the state of Indian economy.
The WPI was down in the recent seven weeks, till July 2009 and the decline is expected to continue till October-November this year, CMIE said.
The report said that weak global growth prospects have kept company prices in check in the international market and the same sentiments were being reflected in the domestic market.
According to CMIE, prices of basic metal and metal products are projected to decline by 10.5 per cent in the current fiscal.
Likewise, the prices of chemical and chemical products and rubber and rubber products are also expected to decline by 2.5 per cent, the report said, adding inflation in the groups other than these manufactured product groups is also expected to remain low in FY 10.
The only exception, however, is the manufactured food products group, which includes sugar, gur, khandsari and several other groups, the report said.
"The rise in WPI of manufactured food products is now placed higher at 10.2 per cent during the current fiscal as against the 4.5 per cent projected earlier," CMIE said.
Image: A shopkeeper sells pulses. Photograph: Reuters