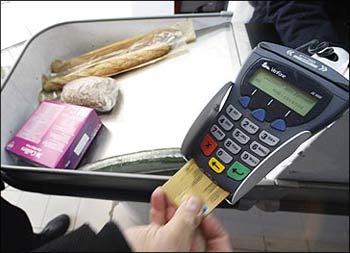 As banks examine the viability of credit cards as a product and find ways to curb losses under this portfolio, the annual growth in credit card balances has fallen to an all-time low.
According to the Reserve bank of India data, year-on-year growth for credit card outstandings, or the total balance due to issuers on credit card spends by customers, has plummeted to 1.4 per cent as on May 22, 2009.
During the year to May 23, 2008, the growth rate was 36.5 per cent. And, for the preceding year, it was 45 per cent.
This flat growth comes despite an increase in rollover of credit from around 60 per cent a year ago to around 65 per cent now.
Banks, already on a culling spree, have cancelled nearly 3 million credit cards in 2008-09. However, bankers said most of the cancelled cards were inactive ones, which cost them money to hold in terms of billing and postal charges. There was also the potential for misuse since inactive cards could be used in case the owner fell in financial trouble and needed cash without having to put up collateral.
Apart from whittling down their existing card base, some of the most aggressive players have slowed new issuances too.
For instance, ICICI Bank, which has the largest credit card base in the country, has slashed the number of new credit cards to about 1,000 a month, according to a senior executive who declined to be named. Questions are also being raised about the financial viability of this product in its current form. "This category is going to be ring-fenced for some time and we are examining if it is sustainable without an annual fee," the bank's executive said.
ICICI Bank's cards in circulation have dipped from 8.5 million a year ago to about 7 million now.
SBI Cards, a joint venture between State Bank of India (SBI) and GE Money, has kept its cards base more or less constant over the past 12 months at around 3 million. According to Diwakar Gupta, chief executive officer, SBI Cards, card spends barely sustain the cost to the issuer.
"We offer 50-day credit to the customer, but the cost of holding that card is equal to the interchange earned on that card. Without an annual fee, this model is not really sustainable," said Gupta.
Citibank, with the fourth largest credit card base, has reduced its credit card base to 2.5 million from 3.8 million in July last year. When contacted, the lender declined to comment.
Most banks have made it a policy to issue credit cards only to existing customers.
Parag Rao, head - product, portfolio and service delivery, credit cards of HDFC Bank, said that the private sector lender's policy to source 85 per cent of the business from customers with existing relationships had helped it keep delinquencies at a much lower level than the industry average.
As a result, it is the only large issuer to have seen its credit card base increase, from around 3.8 million a year ago to around 4.5 million now. "Incrementally, there is no issuer which is issuing over 15,000 cards a month," said Rao.
But the overall credit environment has also forced HDFC Bank to tighten norms for certain geographies and segments, besides focusing on more stringent verification.
According to industry estimates, delinquency rate for the credit card business has shot up to 20 per cent, from around 15 per cent a year ago.
Shyam Srinivasan, country head for consumer banking at Standard Chartered Bank, said credit cards should not be looked as a standalone product. "The product does remain viable if it is seen as part of a wider relationship with the customer," he said.
According to Srinivasan, Standard Chartered Bank is the largest issuer of premium segment cards in the market. The bank has kept its credit card base flat at 1.3 million over the past few quarters.
While fewer issuances is one part of the story, banks have also resorted to reducing sanctioned credit limits, which in some cases have been slashed by half. In many cases, cash withdrawal facility has been dispensed with.
Besides, HDFC Bank's Rao said that card holders have also resorted to lower spends on their cards due to the uncertain economic environment.