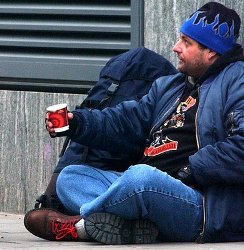 It literally pays to beg on the streets in Britain, particularly in these times of salary cuts as collections can be as much as 200 pounds a night.
The police have discovered several cases of professionals who have suffered major salary cuts begging on the streets at night to supplement their falling incomes from day jobs.
One woman in the east Midlands town of Leicester admitted that she begged at night after her office job, so that she could pay for a new kitchen in her flat.
According to the Leicester police, street beggars are collecting almost 200 pound a night, which amounts to an annual salary of 73,000 pounds -- and that too, tax free.
In July, the police arrested 20 beggars on the streets of Leicester, none of whom were homeless. Sergeant Adrian Underwood, of Leicestershire police, said some beggars were collecting 200 pounds a night tax free.
He said: "On a good Friday or Saturday night some can make up to 200 pounds. We have intelligence that there is a woman who is begging because she wants a new kitchen for her flat".
"A lot of well-intentioned people see someone begging and think they are deserving causes. Would they give them money if they knew that person had just come out of a flat, was receiving benefits and had food in the larder?" Underwood added.
Toni Soni, head of hostel services at Leicester City Council, said previous operations by the authority and police had found no beggars to be homeless.
He said: "There are people who are actually professional beggars who are doing it to make a living."
Councillor Patrick Kitterick, whose Castle ward includes the Leicester city centre, said: "Our information is that most, if not all, the people who are begging have accommodation."