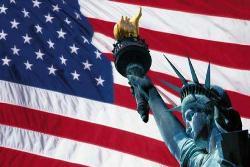 Signalling that the worst of the economic crisis could well be over, the US Federal Reserve has said that the downturn is bottoming out and financial conditions in the country have improved in recent months.
The US Fed has also retained its benchmark rates for the Federal funds in the range of zero to 0.25 per cent, as part of its efforts to help in boosting the economy.
After its two-day monetary policy meeting, which ended on Wednesday, the Fed said that 'economic activity is leveling out'.
"Conditions in financial markets have improved further in recent weeks," it noted in a statement.
The world's largest economy is officially in recession since December 2007 and things turned for the worse after the bankruptcy of financial services major Lehman Brothers in September last year.
The Fed says the low federal funds rates are likely to continue because of the economic conditions.
According to the Fed, economic activity is likely to remain weak for some more time but various actions by the administration including the stimulus would help in 'gradual resumption of sustainable economic growth in a context of price stability'.
The benchmark rates were slashed to near zero in December last year, to ease the tight credit conditions.
In recent weeks, data from various sources have indicated that the US economy is witnessing an upturn. The unemployment rate in July slipped to 9.4 per cent and GDP shrank one per cent, much less than expected, in the second quarter of 2009.
Further, the latest figures showed that US exports have increased two per cent to over $125 billion in June.
The Fed is in the process of buying Treasury securities worth $300 billion.