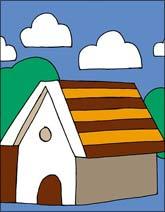 A study of households with an annual income of Rs 3 lakh (Rs 300,000) to Rs 10 lakh (Rs 1 million) in seven cities shows substantial variations in the type of houses they can afford to buy.
The study on affordable housing, done by property consultants Knight Frank, says the Rs 8-10 lakh (Rs 800,000-1 million) income category in Chennai can afford houses up to Rs 45 lakh (Rs 4.5 million), while the same group can afford houses up to only Rs 38 lakh (Rs 3.8 million) in Mumbai and Rs 37 lakh (Rs 3.7 million) in Bangalore. The same category in Hyderabad, Kolkata and Pune could afford between Rs 40 lakh (Rs 4 million) and 43 lakh (Rs 4.3 million).
In terms of apartment sizes, the Chennai households can afford up to 1,200 square feet, while those of Pune and Mumbai can only afford 800 sq ft and 950 sq ft, respectively.
In terms of affordable rates per sq ft, Pune can afford up to Rs 5,900 a sq ft and Bangalore only Rs 3,600 a sq ft, the study said.
"Mumbai's high cost of living, coupled with the generally higher maintenance lifestyle, has adversely affected the affordability of households in the city. For instance, middle class households in Kolkata, Chennai and Hyderabad can afford houses valued at Rs 14-45 lakh (Rs 1.4-4.5 million), whereas households of similar stature in Mumbai can afford houses valued at Rs 12-38 lakh (Rs 1.2-3.8 million)," the study said.
"Affordable rates are higher if sizes are smaller. If buyers can compromise on size, they can afford higher priced apartments," said Samantak Das, national head, research, Knight Frank.
The study assumes significance, as top real estate developers such as DLF, Unitech and Parsvnath have shifted their focus towards the Rs 20-60 lakh (Rs 2-6 million) income category in many cities, with the premium housing segment seeing sharp decline in sales after the economic slowdown and stock market decline impacted home buyers.
The report states that not all of the so-called affordable housing projects in the country are really affordable; they are way beyond the means and preferences of buyers.
"Although preferred unit sizes are less than 1,200 sq ft, many projects are offering greater sizes that are unaffordable. Based on consumer preferences, house property beyond Rs 5,900 a sq ft would be unaffordable across all cities covered," it said.
The consultancy thinks it is premature for developer to raise prices now.
"It is too short a period for developers to increase prices. It is just euphoria after elections and a stable government and not supported by fundamentals," said Gulam M Zia, national director, research and advisory services, Knight Frank.