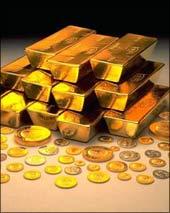 There is always a situation when money needs to be arranged for at short notice. It could be a medical emergency or time to pay off an urgent debt.
Whatever the need may be, is it possible to get a loan instantly, without having to submit reams of documents and waiting for an approval?
Yes, it is possible, if you have gold jewellery.
You can mortgage gold with any bank, with the minimum of paperwork and walk out with the money almost immediately. Some banks claim to process gold loans in three minutes, while most banks hand you the money within an hour!
With the prices of gold rising, banks consider it a safe deal to offer gold loans. You can get up to 60% of the value of your gold. No documents are required, making it a quicker process. At most, some banks might require a no-objection certificate from the lady of the house, as in India gold jewellery is traditionally considered 'stree-dhan'.
Gold loans typically are for the duration of one year, and can be foreclosed at any time. Banks charge an interest of 10% to 12% on gold loans, and your liability is to pay the interest on a monthly or quarterly basis -- no EMIs to pay or worry about.
The jewellery is released by the bank when the total amount due to the bank is realised. In case you have not been paying the interest on time, an additional penal interest of 2% may be charged by the bank.
One of the most convenient features of a gold loan, apart from it being immediate, is that you need not have a source of income to avail a loan.
Hence, home-makers with no source of income, or people who may normally not be eligible for loans can mortgage their jewellery to raise funds.
Salient features:
No documents required.
No source of income necessary.
Hassle-free, immediate disbursal.
No EMIs to worry about.
Amount of loan can be as high as Rs 10,00,000, depending on the bank.
The process:
You can walk into your bank and declare to the manager or the loan department that you wish to avail a gold loan. You will be required to fill up a simple form, and the bank will evaluate your jewellery.
The bank will either have a jeweller visit the branch for the same, or you may be required to accompany a bank official to the jeweller for the purpose of evaluation.
The charge for evaluation is generally borne by you, and ranges from Rs 100 to Rs 250.
Once the jewellery has been evaluated, you need to provide a stamp paper to the bank for the purpose of mortgage. Stamp charges vary according to the amount of the loan.
That's it! The amount of loan will be disbursed into your account with the bank and you are free to make withdrawals. Your urgent need is taken care of, and your jewellery is safe with the bank!