With undeniable sightings of green shoots of economic recovery, this would have been Prime Minister Manmohan Singh's Independence Day speech of triumph.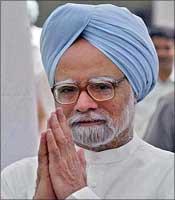 That it was, but in parts. For good measure, he had to temper it because of the two spoilsports that have come into play in recent weeks: The spectre of a drought and H1N1 flu.
Still, speaking from the ramparts of the Red Fort (which perhaps saw the tightest security ever), the Prime Minister made the upbeat declaration that the effects of the global economic slowdown would recede by the end of this year. "We expect that there will be an improvement in the situation by the end of this year," he said after unfurling the Tricolour to the sound of the ceremonial 21-gun salute.
Speaking in Hindi from a prepared text, he said the challenge for India - even as Europe rejoices because the 16-nation Eurozone shrank just 0.1 per cent in the second quarter - was to quickly restore the growth rate to 9 per cent. The government would bring in more overseas investment, encourage exports and increase public investment and spending to meet this "greatest challenge". He appealed to businessmen and industrialists to support the government.
The economy grew 6.7 per cent in the 12 months ended March, the slowest pace of expansion since 2003. Growth averaged 8.8 per cent in the previous five years.
As a light drizzle kept him company, Singh said: "Some people question whether India will ever be able to attain its true potential. I have no doubt about this."
In keeping with the United Progressive Alliance's leit motif, Aam Admi hogged large parts of the Prime Minister's speech. He was also careful to skip Pakistan, Nepal, Sri Lanka (relations with each of which have been less than excellent). Instead, he merely said that India wanted a peaceful and developed South Asia.
The deficient monsoon, he said, would affect the economy and therefore debt repayment by farmers had been postponed. The government would provide assistance to drought-hit farmers. But he acknowledged the rising prices of foodgrain and pulses and asked state governments to prevent hoarding and black marketing of essential commodities.
Monsoon rains in India are 29 per cent below average so far, raising concerns of weaker farm output and inflation. Economists say a bad monsoon could knock as much as 2 percentage points off growth. But India has adequate stocks of foodgrain, and the government would keep food prices in check, Singh said.
"All efforts will be made to control rising prices of foodgrain, pulses and other goods of daily use," he said, speaking from behind a bullet-proof enclosure. "The goal is 4 per cent annual growth in agriculture, and I am confident it will be achieved in the next five years."
Speaking about the H1N1 virus, which causes swine flu, he asked everyone to tackle the situation calmly and without anxiety.
He also touched upon the beleaguered national carrier, Air India, and said its problems were being given careful consideration and would be resolved soon.
He promised further improvement in the National Rural Employment Guarantees Scheme, including new types of work, a food security law that will provide every family living below the poverty line with a fixed amount of foodgrain every month so that no Indian went hungry, and extension of the Integrated Community Development Scheme to every child below six by March 2012.
Hailing the Right to Education Act, Singh announced a new scheme to help poor students by way of reduced interest rates on education loans. This will benefit half a million students in getting technical and professional education.
He announced the expansion of the Rashtriya Swasthya Bima Yojana to cover each family below the poverty line. Stating that Bharat Nirman had reduced, to an extent, rural and urban disparities, he said more ambitious targets would be set for schemes for house construction and telecommunications in rural areas.
Discounting reports that the Jawaharalal Nehru National Urban Renewal Mission was not working, he said the programme would be accelerated, and the Rajiv Awas Yojana would provide better housing to slum dwellers. A Jawaharlal Nehru National Solar Mission will be launched on November 14 to harness solar energy and mitigate the effects of climate change.
The government will redouble its efforts to deal with Naxalite activities. "Every government should be sensitive to people's complaints and dissatisfaction. But nothing is achieved by destroying public property and indulging in violence against one's fellow citizens. Our democracy has no place for those who resort to violence to express their disagreement, and the government will deal firmly with such people," Singh said.
Rejecting the notion that development of the minorities and the deprived sections of society was tantamount to 'appeasement', he said every effort will be made to address the problems of minorities. Women's welfare will be especially monitored.
"We respect the special assurances and concessions provided to Jammu & Kashmir in our Constitution. We will continue to honour these special provisions," he said.
The Right to Information Act will be improved to make it more effective. The Unique Identification Authority of India will issue the first set of identity numbers in the next one to one and a half years.