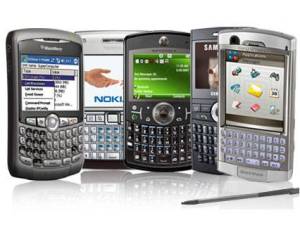 Hi-end smartphones are all set to make a huge splash this year. Relatively new players like Acer are throwing down the gauntlet to established smartphone makers such as Nokia and Sony Ericsson. And, all this is only going to make your decision-making tougher.
Acer F900: Price: Rs  30,990
Acer's smartphones are designed for users who want features. For instance, the Acer F900 has a massive 480x800-pixel screen that makes the instrument too big to accommodate in your pocket.

In fact, the instrument measures 117.5mm tall, 63.5mm wide and 12.85mm thick, and weighs 155 grams. The overall size of F900's screen is at par with that of HTC Touch HD - the only other Windows Mobile device currently available to sport this screen size.
There is 256 MB of storage and you can add to this microSD cards to build a device with plenty of memory for storing data and media. The processor being Samsung's S3C 6410, running at 533Mhz, is no slouch.

An accelerometer flips the screen as you turn the F900 in your hand. But all is not rosy. It has only a 3.2 megapixel camera that comes with a small LED flash.

There is no front camera for two way video calls. When it comes to usability, the F900's screen is not always as responsive as one would like it to be. It is a resistive touchscreen, an expected thing on a Windows Mobile device, that exhibited certain reluctance in responding to our taps during the review.
Acer has adopted a proprietary skin for this device. So, the F900 offers you three screens of virtual desktop on which application icons sit. This shell simplifies navigation by making the home screen a room with a desk and window inside, and each of the objects in the room, a total of nine, take you directly to content when tapped.

For instance, a calendar hanging on the wall displays the date and time, and will take you to your appointment book. A Rolodex icon will take you to contacts.
For those who already use and like the Windows Mobile 6.1 interface, the phone can be switched to that, or to a quick menu that resembles the iPhone's home screen. Although it is not as slick as HTC's TouchFLO, but then the latter hasn't been in development for quite some time now.

The Acer F900 also has an FM radio -- a rare feature for Windows Mobile devices.
The Acer F900 has a lot going on, but there are ups and downs in this smartphone that may spoil your joyride. Available for Rs 30,990, F900 is worth checking out.
Sony Ericsson W995: Price: Rs 26,786
Many mobile phones are considered to be your media players on the go, but Sony Ericsson has made music and video playback the whole reason for the new W995 Walkman's existence.

So, W995 is a slightly bulky and button-heavy slider phone that bundles in an 8.1-megapixel camera, an improved media syncing system, HSDPA 3G, Wi-Fi and GPS. Sony Ericsson's shake control also makes an appearance in this smartphone.

Hold down the left side Walkman key and shake up and down for volume control, left and right to switch tracks. But the company also makes the feature redundant by a right side mounted playback and volume buttons.
Sony Ericsson has finally put a 3.5 mm headset jack in the W995 -- the first time we have seen one in a Walkman handset. Unfortunately, you still have to use the standard left-edge mounted proprietary connector and the provided headset while using handsfree calling.
Sporting a hi-end camera, this smartphone does have a few bonuses like smile detection, photo fix and geotagging. But if you are serious about mobile photography, then Sony Ericsson's C905 outshines W995. This one, after all, is a Walkman phone.

There is a dedicated Walkman button, which gives you direct access to your music, videos, pictures and the YouTube application. There is a kickstand at the back to prop the phone up which proves useful for handsfree viewing. If the inbuilt speaker is not enough for you, then Sony Ericsson has also thrown in a tube speaker for the phone to amplify the sound.

Some other notable features of W995 include the BBC iPlayer, an FM radio and NearMe, which finds things (cinemas, chemists, restaurants and lots more) that are near your current location.
The W995 carries a price tag of Rs 26,786, which includes portable speakers, an 8GB M2 memory card and other usual accessories in the package. Overall, W995 stands out as a multimedia and music phone.