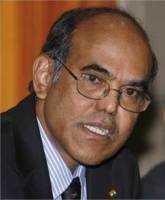 Reserve Bank of India Governor D Subbarao said on Monday that the high fiscal deficit was a concern with government borrowing hindering transmission of monetary measures.
"Government borrowing is so high. . .In a way it is militating against interest rate coming down," Subbarao said while releasing a collection of essays authored by C Rangarajan, chairman of the Prime Minister's Economic Advisory Council. The Union government's gross market borrowings during 2009-10 is estimated to go up to about Rs 4.51 lakh crore (Rs 4.51 trillion) from Rs 3.1 lakh crore (Rs 3.1 trillion) during 2008-09.
Stating that counter-cyclical measures to combat the impact of the global financial meltdown were important, Subbarao said the government borrowings had gone up 'rapidly and abruptly' hindering transmission of monetary measures to bring about lowering of interest rates.
He said the Thirteenth Finance Commission should look at ways of increasing revenue and controlling expenditure. "It should not only come out with numbers but suggest ways of achieving them," he said.
Speaking to reporters later, Rangarajan said bad monsoons would not impact the country's growth much. He expected the GDP growth to be 6-6.5 per cent during the current year.
He said interest rates might slightly harden at the end of current year with point-to-point inflation at 5 per cent.
Subbarao had last week said it was too early to take action on inflation as signs of pressure on prices were yet to show up, suggesting that the central bank would wait for inflation to rise before reversing its expansionary policies.
The inflation rate has been negative for eight consecutive weeks since early June.