The new index of industrial production, with a revised base of 2004-05, increased data points and an updated product portfolio, will not include mobile phone manufacturing.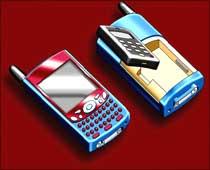 "It is a matter of statistical contention. The debate regarding the inclusion of mobile phones has been on for some time but in 2004-05, India did not manufacture mobile phones and therefore the revision of base will not include this particular industry," said Pronab Sen, chief statistician of India and secretary, ministry of statistics and programme implementation.
Mobile phone manufacture in India started only in 2006. Finnish company Elcoteq established the first mobile phone factory at Bangalore in April 2005. It started production in 2006 and with other major companies too starting production the same year. Market leader Nokia and Korean giants LG and Samsung, along with local brands like Spice, Usha Lexus and BPL now have mobile manufacturing units in India.
Growing domestic demand and relatively cheap labour saw production increase manifold. In 2006 alone, India produced around 31 million mobile phones and production crossed 100 million sets in 2008.
Gartner, a telecommunication research and consulting agency, has predicted that the mobile phone manufacturing industry, which is around Rs 30,000 crore (Rs 300 billion), will see a compounded annual growth rate of 25 per cent every year.
For economists and analysts, mobile phones were the most anticipated addition to the index, because its inclusion would have reflected the rapidly evolving manufacturing scenario in India, increasing the scope and representation of the index.
Analysts believe that telecommunications as a sector, including services, is one of the fasted growing ones contributing around 2 per cent to India's growth. Rapidly increasing mobile phone penetration is also expected to result in significant growth in indigenous manufacturing of phones.
"Mobile phones would have been an important addition to the index, given the vast potential growth in the industry. Base revision should make the data more reliable and the reliability factor will definitely increase if manufacturing of mobile phones is accounted," said D K Joshi, chief economist, Crisil India. He added that the exact impact on IIP was not known.
There is a view within Mospi that mobiles could be included in the category of landline phones. "We are doing this for LCD TV sets, which will be included in the category of colour TVs. But the problems still persist," said a Mospi official.
The current index with a base year of 1993-94 covers 534 items that account for around 80 per cent of the output of the manufacturing industry.