Legendary investor Warren Buffett has said the American economy is out of the "emergency room" and the country appears to be on a slow path to economic recovery.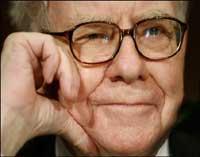 Buffett, who is the chairman of diversified group Berkshire Hathaway, has noted that a gush of Federal money helped in avoiding an economic meltdown.
America is witnessing one of the worst financial crises since the 1930's Great Depression, forcing the administration to come up with various monetary measures including a mammoth $787 billion stimulus, to boost the economy.
Buffett said that a meltdown was avoided with a gusher of Federal money playing an essential role in the rescue.
"Enormous dosages of monetary medicine continue to be administered and, before long, we will need to deal with their side effects," Buffett said.
The famed investor noted that such effects are invisible now but their "threat may be as ominous as that posed by the financial crisis itself".
Noting that fiscally the country is in "unchartered territory", Buffett pointed out that fiscal deficit would be $1.8 trillion.
He said the Federal debt can be financed by borrowing from foreigners, US citizens and printing money.