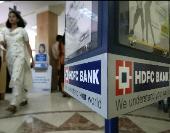 HDFC Bank has slashed India's growth outlook for the current fiscal to 5.8 per cent from its earlier projection of 6.5 per cent because of the deficient monsoon.
"Kharif sowing picking up but likely to be lower than last year. (We) see agricultural output falling by 3 per cent in 2009-10 against previous forecast of 3 per cent growth," the bank said in a research report.
The outlook of a negative growth in agriculture comes on the back of the Indian Meteorological Department's revised rainfall forecast and uncertain impact of mitigants such as ground water harvesting and modification of cropping patterns.
"Reports of expected reduction in kharif output of up to 10 per cent have prompted us to revise our agricultural growth forecast lower," the bank said.
However, it said price impact of a deficient monsoon can be reigned in by drawing down food stock buffer, extension of tax-free sugar imports, limits on grain exports and crackdown on hoarding. Finance Minister Pranab Mukherjee on Friday reiterated there would be no exports of foodgrains from the country at a joint meeting of state agriculture ministers on drought in New Delhi.
Though the bank's agricultural outlook has come down, its impact on India's overall growth forecast has been partially mitigated by the rise in forecasts for growth in industry and services for the current fiscal.