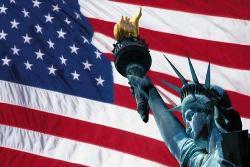 A high-powered trade mission, headed by Roe Khanna, the highest ranking India [ Images ]n American in the US Department of Commerce, would visit India in November to explore opportunities for American energy-efficient products and technologies in the country.
Being organised by the US Department of Commerce, International Trade Administration, US and Foreign Commercial Service, in partnership with the US Department of Energy and US Agency for International Development, the Energy Efficiency Trade Mission would travel to New Delhi [ Images ], Mumbai [ Images ] and Chennai from November 16 to 20.
Industry experts believe this is the right time for US companies to hit the Indian market, as India is increasingly exploring energy efficient ways of improving its power supply.
In May 2008, the power ministry had said India's energy conservation potential with today's technologies could be 20,000 MW. The country saved only 877 MW from 2002-2007, but from 2007-2012, the target is 10,000 MW.
The United States believes that the new targets set by the Indian government will soon accelerate the growth of the energy efficiency market in India, so it is the best time for the American companies to position themselves in India.
Incidentally, the mission would travel to India just before the state visit of Prime Minister Manmohan Singh [ Images ] to the US.
Clean and efficient energy is on top of the agenda of the Obama [ Images ] administration. President Obama appointed Khanna, 32, early this month as the Deputy Assistant Secretary for Domestic Operations, US and Foreign Commercial Service.
The first stop of the trade mission is New Delhi. The delegates will participate in a DOE/USAID conference on energy efficiency, which will allow them to meet their Indian counterparts and learn about policies and market opportunities in India.
From New Delhi, the group will travel to Chennai. Energy efficiency is a top political priority for the Tamil Nadu government. Moreover, Chennai is the base for many large Indian and foreign manufacturing installations, which could benefit from energy-efficient services and technologies, and home to India's National Energy Efficiency Centre of Excellence.
Additionally, the green building concept has gained prominence in Chennai as some of the most recent energy- efficient buildings were built there in 2008.
Finally, the delegation will visit Mumbai.