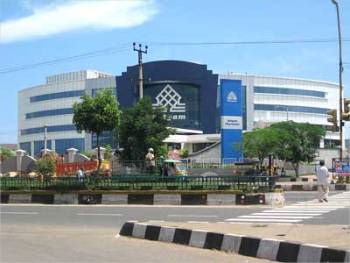 The Corporate Affairs Minister Salman Khurshid said on Friday investigations into the multi-crore accounting fraud in Satyam Computers is almost complete and a final report from the Enforcement Directorate and the Internal Revenue Services is awaited.
"The investigation as far as CBI and ministry of corporate affairs is concerned they are more or less over, and may be some minor things still to be done," Khurshid told reporters on the sidelines of a national conference on corporate governance in Hyderabad.
"I think we have got enough material for prosecution and that's why a chargesheet is filed. We have permission to file additional chargesheets on information that's made available in last few weeks and it will be done," he said.
The minister said for expeditious prosecution a fast-track court has been sought from the high court. "The high court in principle has agreed to do that and as soon as the court will notify, the matter will proceed further," he said.
Replying to a query, Khurshid said he did not see any serious concern or problem with regard to criminal liability as far as the company itself is concerned.
"There are problems for them as far the American litigation is concerned. They are in touch with us on how we can be of further help. We certainly will examine it. They seem to be doing well and we are happy that they are doing well," he added.
Reacting to reports that the ministry was not satisfied with the investigation report submitted by the Serious Fraud Investigation Office and it had been asked to carry out another round of investigations, Khurshid said, "there's no question on not being satisfied with the report."
"It was a preliminary report and not a final report. There were still some aspects to be reported on and the final report will now come. So, it's not a question of being dissatisfied at all."
Answering another question on alleged diversion of funds to Maytas Infra and Maytas Properties from Satyam, he said the ED and IRS were still looking at some leads.
"We need to hear from them before we can make assessment on appropriate size of diversion. They are investigating and we will wait for their report to come in," he said.
The investigations, he said, were largely in the area of prosecution by CBI. 'CBI is obviously in good hands. We have an outstanding legal team and whatever will be required will be done.'
He said the SFIO has not much of a role in this because their work relates to company law violation, though they will be filing a separate chargesheet.
The ministry, he said, did not have any major complaints from Satyam employees. "We looked at the pattern of entire software industry and there is nothing unusual as far as Satyam is concerned. I pay tribute to employees in helping Satyam," he said.
Image: The Satyam office in Hyderabad