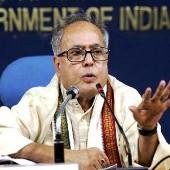 Finance Minister Pranab Mukherjee holds a couple of Master of Arts (MA) degrees, but banker Chanda Kochhar rates him as a great financial engineer for designing the government's borrowings taking care not to hurt the credit needs of the industry.
"I am complimenting the way in which one is managing finances, given the constraint that we are in", said Kochhar, ICICI Bank CEO and managing director, when asked if Mukherjee, a seasoned politician who holds Masters in history and political science, deserves praise for his financial wizardry.
When the government announced plans to borrow Rs 4.5 lakh crore from the market this fiscal, up from Rs 3.1 lakh crore last fiscal, the industry started worrying that its credit needs would not be met.
"When the number (quantum of government borrowing) came out, all of us were worried. We needed more clarity on how it will be managed. Very soon clarity came," she said, pointing out that as much as 70 per cent of the government borrowing will be completed during the first half, leaving credit for the industry in the second half.
The government had stepped up borrowing in order to provide stimulus to the economy by increasing public spending.
Admitting that the government borrowing was indeed large and could have impact on financial system and interest rates, Kochhar said, "There was a lot of thought behind it. Almost 70 per cent would be completed in the first half.