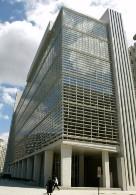 The World Bank and India have concluded negotiations for loans worth $3.2 billion for recapitalising state-run banks and funding for the India Infrastructure Finance Company Ltd, a state-run lender to infrastructure projects.
The World Bank board would meet in the second-half of September in Washington to approve a $2 billion loan for the recapitalisation of the PSU banks and another $1.2 billion loan for the IIFCL.
The Bank's External Affairs Advisor, Sudip Mazumdar, said "negotiations for the two loans have concluded. $2 billion loan for state-run banks and $1.2 billion loan for IIFCL would now be taken up for the board's approval."
The loans are expected to be formally signed in New Delhi within a month after the approval from the bank's board.
Both the loans form part of the $14 billion loan amount earmarked by the World Bank for India for three years, Mazumdar said.
Also, there are other projects for which negotiations are going on between India and the World Bank.