The investigation in the multi-crore Satyam accounting scam has indicated the role of a prominent stockbroker, prompting the Central Bureau of Investigation to seek filing of another chargesheet in the case, which may be done soon.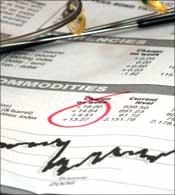 The agency has also sought permission to investigate the overseas fundings of the scam-tainted computer firm.
Sources in the agency said the role of a leading stockbroker in management of funds of the firm had surfaced during the probe, which necessitated further investigation.
However, they refused to reveal the name of the stockbroker but said several CBI cases were being prepared against him.
Meanwhile, a team of the US capital market regulator, Securities and Exchange Commission, which came to India to collect documents for carrying out investigations into the Satyam fraud case in America has completed its exercise.
The team from SEC had arrived in Hyderabad and held talks with the CBI team probing the accounting fraud at Satyam Computers.
SEC wanted to probe the financial dealings of B Ramalinga Raju, the tainted founder-chairman of Satyam, which is listed in the New York Stock Exchange.
It had sought permission from the Indian government and the CBI to probe the case.
SEC, which is market regulator Sebi's counterpart in the US, has been tracking the case in that country.
The Satyam fraud, running into around Rs 7,800-crore, came to light in January this year after Raju disclosed that he had falsified profits for years and created fictitious assets. The company has been sold to Tech Mahindra and rechristened Mahindra Satyam.
Investigation into the fraud taken over by the CBI on February 18 on the Andhra Pradesh government's request.
The agency, on April 7, filed a charge sheet against Raju and eight others under various sections of the Indian Penal Code for cheating and forgery.