It's a small car with big ambitions. The Volkswagen Polo is the car that Volkswagen India wants to bring it the volumes. The German carmaker sells the Passat and Jetta in the country, together which accounted for about 1,500 units last year, which Volkswagen hopes to double this year.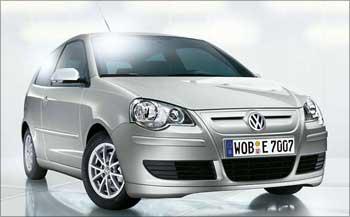 But with the compact Polo, it will enter an already crowded and extremely contested segment. More players like Ford, Toyota and Nissan are firming up plans to enter it.
The reason is not far to seek - this premium hatchback category has shown 33 per cent growth this year. "Looking at this scenario, we are confident that this segment offers enough opportunities for all players to cater to customer demands," says Neeraj Garg, director, Volkswagen Passenger Car Sales.
Volkswagen hopes that the German lineage of the Polo will be the magnet that will attract buyers. "The Polo will be a German engineered car, made in India, and will meet Indian conditions and customer requirements," says Garg.
The Polo will be showcased at the Auto Expo in Delhi in January 2010 and will go on sale a little after that. Back-of-the envelope calculations suggest that Volkswagen will want to sell about 2,000 units of the Polo every month, and with its stated plans of achieving sales of 100,000 units by 2014, the Polo will play a critical role indeed.
It's not going to be easy, as Volkswagen's hand will be forced to play the value-for-money card with the Polo. Especially if it wants to compete with the likes of the Maruti Suzuki Swift. And going by the experience with another car from the Volkswagen Group, the Skoda Fabia, premium pricing cannot go a long way in this segment, even if it's for a premium brand. So it becomes all the more critical for Volkswagen to maximise localisation of the elements that go into the Polo as quickly as possible. The Polo is based on a modified platform of the Fabia, so that should also help the carmaker.
Besides that, for a volume model like the Polo, Volkswagen has cranked uped its delivery and service points in the country.
So, getting the sales and service outlets up to speed has become all the more critical for the company. "At the beginning of this year, we had 15 dealerships and today we stand at 19. By the end of this year, we will have 40 dealerships across the country," says Garg. This, hopefully for Volkswagen, will be filled with Polos and customers.