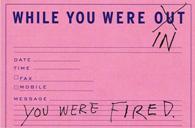 Gripped by despair after being handed out pink slips, IT professionals now have help at hand with a group of concerned fellow professionals hosting a website to help them, reports
Ramnath Shenoy
.
Seven professionals from this IT hub developed and launched a unique website www.conquerecession.com to help the IT and ITeS (business process outsourcing) community which is the worst-hit due to recession.
"Part of this idea came three months ago when we were moved by newspaper reports that two IT professionals have committed suicide in Bangalore and one in Chennai," T N Thandava Gowda, head of the team, told PTI.
"Through this portal, we have created a platform for IT professionals to share their thoughts and post vacancies, if available, in their respective companies", he said, noting that employees letting known openings in their firms is a unique model and such opportunities won't find mention in various jobsites.
Quoting industry sources, Gowda said approximately 3,000 IT jobs were lost last month alone in Bangalore. "Prior to that, the figure was higher."

Unfortunately, there were no openings for those who picked up pink slips. The new web forum that the team has launched has interesting sections. Recession forum allows one to blog about anything related to recession and lightens one's burden. They can talk about their layoff experiences and seek counselling.
In the 'Hot Jobs - A helping hand', there are leads for those on the lookout for jobs. India & recession' has several tips and advice on coping with recession, on entrepreneurship ideas, stress busting and related issues.
'News update' has industry news that keeps one up to date with the recent happenings in the industry and thus helps one stay competitive.
"This website is not just on getting jobs. We talk a lot about recession, where it's moving and trends. We give tips to people on what they have to do to keep their jobs", Gowda, who runs an IT firm focussed on e-governance projects, said.
The other six members of the team were not willing to be quoted as they are working in private companies and want to steer clear of any attention on them.
"They (the six members) certainly have concerns. They have been seeing that (job losses) in their own companies on a daily basis. Certainly there is a fear that they might lose jobs. There is a lot of turmoil," Gowda said.
The website, started out of curiosity and concern, is receiving a good response with one lakh hits per month, he claimed.