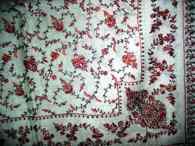 The textiles industry says the flagship scheme has lost shine, says
Devika Banerji.
The cash-starved Indian textile industry is of the view that the Technology Upgradation Fund Scheme, or Tufs, flagship scheme of the textiles ministry, has lost its shine, as economic slowdown has put modernisation and expansion plans of companies on hold. The industry says there are more basic problems that the government needs to address.
Union Textiles Minister Dayanidhi Maran had recently announced he would seek more funds from the finance ministry under the scheme. The government had recently released an amount of Rs 2,546 crore (Rs 25.46 billion) in one tranche under Tufs to clear a two-year backlog of payments that were due till June 2009.

The industry has gained through this, as the measure ensured availability of much-needed funds. However, most of the companies, with no expansion plans, state that the incremental demand for Tufs is set to go down for a couple of years.
Companies are in dire straits right now and expansion or modernisation plans are the lowest in the priority list. Therefore, giving subsidy on modernisation has lost its meaning in the given situation, said Aseem Bhatia, director of the Foreign Trade Development Centre.
Under Tufs, the government provides 5 per cent interest subvention and 10 per cent capital subsidy for specified processing machinery. The scheme was introduced to encourage technological upgrade to make Indian textiles competitive in the domestic and international markets.

The scheme, which started in 1999 for a five-year period, was extended following demand from textile units. However, economic slowdown threatens to dampen successful scheme of the ministry.
The budget made an increased allocation of Rs 3,140 crore (Rs 31.40 billion) under Tufs, of which Rs 2,456 crore was used for clearing the backlog. The government has kept Rs 684 crore for the rest of the current financial year for subsidy under the scheme to met new demands.
We have other problems which need to be tackled. In Tamil Nadu, power availability is a major problem. With limited power supply, how are we supposed to expand our business, increase our production or avail of the benefits of a scheme like Tufs.

No new industries are expected to come up in Tamil Nadu for some time. The power situation is acute, said P V Chandran, managing director of Ambika Cotton Mills in Coimbatore.
There would be an incremental decrease , that is in relative terms, in the demand for subsidy under Tufs but some firms like Alok Industries and Bombay Rayon are still expanding their industries, so they will continue to benefit, said Naishadh Parikh, head of policy initiatives, Arvind Ltd.
Shrinking exports, a major concern for export-oriented sectors, also feed the feeling that the government should channelise available funds through other measures besides Tufs.
Tufs has done well for the industry and the clearance of backlog has helped units. But in the current circumstances, focus market schemes or lowering tax rates for a temporary period should be explored and focused on to increase competitiveness of the industry. These are more immediate problems that need to be addressed, added Bhatia.