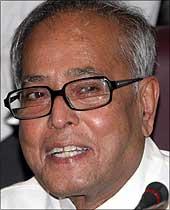 Finance Minister Pranab Mukherjee said on Tuesday the Indian economy seems to have weathered the global financial storm and mitigating the impact of deficient monsoon is a 'top priority' for now.
"Despite the global economic crisis, we grew by 6.7 per cent last year...This year, we are getting mixed signal," Mukherjee said, while noting that indicators are coming good from industrial production data and in terms of business demand and investor confidence.
The finance minister, however, noted that the government was not in a position to lower its guard, given the uncertainties continuing in the global economic scenario.
"At this juncture, delayed monsoon has impacted many parts of the agrarian economy...Mitigating the impact of deficient monsoon is a high priority," he said at a panel discussion on reform process on a private television channel.
Image: Pranab Mukherjee