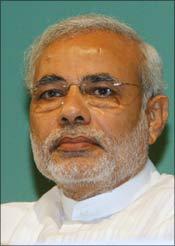 Gujarat Chief Minister Narendra Modi, 58, has been chosen The Asian Winner of the fDi Personality of the Year awards for 2009 by fDi Magazine, a Financial Times group publication.
In 2007, India's then commerce and industry minister Kamal Nath (currently road transport and highways minister) was honoured as the global 'FDI Personality of the Year 2007' by the publication.
The fDi Personality of the Year awards recognise the political and business leaders around the world who have been the most proactive, dynamic and innovative in securing foreign investment and improving the business environments of their jurisdictions.
Narendra Modi, now in his third term as the Gujarat chief minister, has been named for 'his skill in attracting domestic and international investment and for creating an enabling business environment for global investors.'
Last year, Gujarat attracted $2.8 billion in FDI, which is 10.3 per cent of all foreign investment inflows into the country and an increase of 57 per cent on the previous year. Gujarat has seen economic growth of about 10 per cent, year-in year-out, the fastest rate of any state in India, for quite a few years now. Gujarat also has one of the highest per capita incomes in India.
Apart from Modi, the other regional winners are:
Global Winner: Qasim Al Fahadawi, Governor of Al Anbar province, Iraq
North America: Bobby Jindal, Governor of Louisiana, US
Africa: Babatunde Raji Fashola, Governor of Lagos State, Nigeria
Europe: Connie Hedegaard, Energy Minister, Denmark
Latin America: Ivonne Ortega Pacheco, Governor of Yucatan State, Mexico.
Image: Gujarat Chief Minister Narendra Modi.
Photograph: B Mathur/Reuters