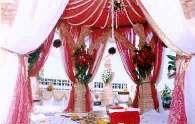 Hemant and Sarika were childhood friends and had dreamt of getting married when they grew up. Accordingly they fixed their marriage on March 23. All the arrangements were made and both were looking forward to their D-day. But unfortunately on the day of their marriage, the van in which the caterers were traveling broke down.
As a result, the guests who came for the wedding did not get pre-lunch snacks. They were disappointed as the dream marriage they were expecting did not turn out to be so.
So what should they have done? Could they have prevented this calamity? Well, perhaps no but at least they could have prepared adequately in terms of costs involved, by opting for a wedding insurance!
Introduction to wedding insurance
Just like we have life insurance to protect our life, car insurance to safeguard our car and health insurance to secure our health, we have wedding insurance to ensure our wedding goes off smoothly.
Is it required ?
Over a period of time, marriages have evolved from a simple ritual uniting two souls to a complex affair where lakhs and crores of rupees are spent on lavish ceremonies.

Besides costs of all the services involved in providing marriage facilities, have gone up.

So if anything goes wrong, the parties involved can suffer heavy losses. So having an adequate wedding insurance will help. It will give you peace of mind as you are sure you won't lose any money.
Coverage of wedding insurance
Different insurance companies have different types of wedding categories. Some of the most common ones include: personal accident, postponement/cancellation, damage to property, burglary, money and public danger.

However, some insurance companies do offer certain specific categories of cover like food poisoning.
Selecting the right type of insurance cover
With so many types of covers available, you have to choose the right cover carefully. For that, consult an insurance agent or request your wedding planner (if you have one), to help you out in selecting the right cover. Also, get the details of every section covered in writing.

Read it carefully and ask questions if you find some important points are not covered.

Moreover, get in writing from the insurance company, the method of claiming money and the necessary documents required to be submitted to make a claim. For e.g. if anybody falls ill at the marriage party, you will have to submit a doctors certificate stating the nature of the person's illness.

If you intend to provide cover to your relatives, you will have to mention their names when submitting the forms for buying the policy.
Choosing the right amount of insurance
The premium of wedding insurance is quite nominal. For a nominal premium of Rs 12,000, you can get an insurance cover of Rs 8 lakh, which covers all the categories of covers. But you can exclude some covers, thus reducing your premium amount.
Where should I go
Some companies that offer wedding insurance include Bajaj Allianz General Insurance, United India Insurance and ICICI Lombard General Insurance. Ask them for the quotes and choose the one with the lowest premium.
Marriage is the most memorable event in our life. So we need to ensure that it passes off as peacefully as possible. However despite our best efforts, some untoward incidents can mar our day.

It is here that wedding insurance will help. While it won't eliminate the bad taste in our mouth, it will definitely go a long way towards protecting us from financial loss. There are various types of covers available under this insurance.

Choose the covers wisely, ask for the quotes from various lenders and then select the most appropriate one for you.