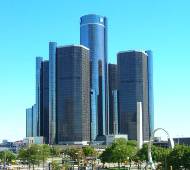 General Motors India will be launching its mini-car, developed on the concept Beat model, in India by January 2010 and hopes to export 8,000 such vehicles in the first year of production.
"The new mini-car will be in the market by January next year and we will produce more than 40,000 units in the first year. Of this, we will export 20 per cent overseas, including to the European and the Asia-Pacific markets," GM India president and managing director Karl Slym told reporters on the sidelines of the SIAM annual convention in New Delhi.
The new mini-car would be priced around Rs 400,000.
He said the company will also launch its sports utility vehicle Chevrolet Cruze in India within the next few weeks. The Cruze is likely to be in the price range of Rs 12- 14 lakhs (Rs 1.2 to Rs 1.4 million).
With the launch of the Cruze and the successful run of our newly launched Chevrolet Spark, we are hopeful of registering 10 per cent growth in the market this year, Slym said.
GM India has last week announced plans for launching four new models in the Indian markets in 2010.
Image: GM office in Detroit