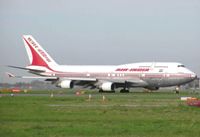 Cash-strapped Air India is likely to table a detailed financial turnaround plan at a meeting of the high-level committee of secretaries in New Delhi on Saturday, showing proposals to cut costs and enhance revenue generation over the next five years.
The plan, vetted by the finance and civil aviation ministries, is likely to include proposals relating to the nature of financial assistance it wants from the government, including equity infusion and soft loan.
While the government may make only a partial contribution as equity infusion to the airline, a major part of resource mobilisation is likely to be through options like partial divestment of government equity, issuance of initial public offer or infrastructure bonds, informed sources said.
Officials of the finance and civil aviation ministries and Air India have held series of discussion over the past few weeks to finalise these proposals, many of which had come up for discussion last month at the first meeting of the CoS, headed by Cabinet Secretary K M Chandrashekar.
The government had then asked the petroleum ministry to extend the credit limit on the purchase of jet fuel by Air India for at least three more months.
Once finalised, the proposals would be sent to the Union Cabinet for its approval, the sources said, adding that the much-needed funding for Air India would be released by the government only after the Cabinet nod.
The airline is suffering from a loss of about Rs 5,000 crore (Rs 50 billion) and has a debt of Rs 16,000 crore (Rs 160 billion). It is negotiating with banks and financial institutions to turn its high-cost debt of Rs 10,000-11,000 crore (Rs 100-110 billion) into low-cost.
The CoS, which comprises Principal Secretary to the Prime Minister T K A Nair, Finance Secretary Ashok Chawla and Civil Aviation Secretary M Madhavan Nambiar, has made it clear that any assistance from the government would have to be matched by an 'aggressive' cost reduction and a better revenue management by Air India's parent company National Aviation Company of India Ltd.
In its bid to cut costs, the national carrier has been mulling cancellation of delivery of six Boeing 777s long-haul aircraft meant for delivery between 2010 and 2012.
The fleet renewal plan, including leased aircraft, is being reviewed by the carrier. As of now, it has 46 aircraft on lease including 17 on sale-and-lease back arrangement.
Another significant measure aimed at cutting costs and increasing revenue is the proposal to allow Air India Express, the low-cost entity, to launch domestic operations from next month by deploying 10 additional all-economy aircraft.
The national carrier was estimating an earning of Rs 180-200 crore (Rs 1.8 billion-2 billion) through low-cost operations on the domestic sector and planning to gradually shift 70-75 per cent of its existing domestic flights to Air India Express.
A separate cost management and audit team has been set up to look at financial restructuring plan, including debt servicing, risk management and hedging on aviation turbine fuel.