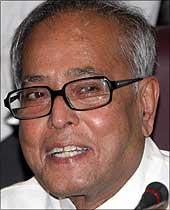 Finance Minister Pranab Mukherjee on Friday expressed optimism that it would be possible to clock over six per cent growth rate in the current fiscal and said there is no scope for anxiety in pursuing reforms in financial sector and disinvestment.
"In the last five years, the GDP growth rate was eight per cent. It was 6.7 per cent in 2008-09.
"This year, it would be difficult to say because of drought. If there is no major difficulty or constraint, it would be possible to have a six plus per cent of GDP in 2009-10," he said during an interaction with members of Editors Guild of India in New Delhi.
He said last year had been particularly difficult in the second half because of high prices of petroleum products, high rate of inflation and global financial crisis.
Mukherjee said excess liquidity had to be mopped up and the two packages announced by the Prime Minister late last year and subsequent pacakges in the wake of the meltdown had helped arrest the fall in growth. After referring to drought and other problems, he said his another area of concern was that people were commenting about the reforms agenda.
"Reforms are a continuous process. It is going in the right direction. There is no scope for anxiety about pursuing financial sector reforms."
Mukherjee said he was not going to give numbers, but consultations were on with various ministries and disinvestment department on the issue.
Two major decisions have already been taken on disinvestment in NHPC and Oil India which will hit capital markets early next month.
Admitting that the financial consolidation programme was seriously affected this year as both fiscal and revenue deficits were high at six and eight plus per cent respectively, he said he would them to come back to five per cent by 2011.
This high level of fiscal deficit would create problems. Sooner we come back to lower levels, it would be better, he said. Mukherjee said this year's Budget had stepped up development outlays to big levels for the first time when it went up by Rs 82,000 crore (Rs 820 billion) to Rs 3,25,000 crore (Rs 3,250 billion), a step up of 36-37 per cent.
"We had to do this so that it will increase development in rural sector and support consumer industry. Our understanding is that the strategy is paying," he said.
Referring to the Foreign Trade Policy, announced on Thursday, he said India's major importers -- US and EU -- are facing problems, because of which Indian exports could be hit.
"We are hoping that it would be possible to have a quantum jump in five years and exports double by 2014," he said.
Image: Pranab Mukherjee