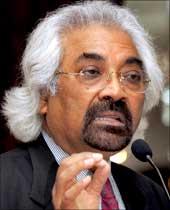 Sam Pitroda, chairman of India's National Knowledge Commission, believes the United States' model of a liberal arts education is applicable in the revamping of higher education in India and that such a model is very much in the works.
He noted during a conference on Higher Education Policies in India, China and the United States, "We recognised early that too much focus on engineering and medical education has created a situation in India where liberal arts really did not get the kind of attention it deserved."
Pitroda said, "A good liberal arts education is important to produce leaders. India has now begun to recognizse that we need not only world class engineering education, we also need world-class liberal arts education."
"And, we agreed that the model we have in (University of) Chicago or Harvard is a model that we need to look at, but it needs to be Indianised -- it has to be of a local context," he said.
Later, in an interview with rediff.com, Pitroda elaborated, "Liberal arts is very critical to provide long-term leadership since there is a vacuum of leadership at many levels in India."
Thus, he said it's imperative to have such an education in the higher education curricula "whether it's understanding of psychology, philosophy, anthropology, sociology, economics -- all these subjects that really have not gotten the kind of attention they deserve in India."
"You just can't produce leaders by just producing mathematicians and scientists and engineers and doctors," he argued, and reiterated, "India needs leaders at many, many levels. We need leaders all over. We need leaders in education, leaders in science, leaders in industry, leaders in NGOs, leaders in government, leaders at district level, leaders at state level, leaders for youth."
Consequently, Pitroda said, "Liberal arts is very important for that kind of effort in our producing effective leadership in India, which is sorely lacking."
He also assailed the naysayers who were skeptical about partnerships with foreign institutions in terms of alleviating India's standard of higher education and asserted that their fears and concerns, about contamination of Indian ethos by Western concepts, were highly misplaced.
"There is always the fear in the beginning whenever these things happen -- whenever you open new systems there are all kinds of fears. But the point is, we need to open our systems systematically in a manner which is in the long run beneficial to India," he said.
Pitroda argued, "We can't have a closed system if we are going to be a major global player -- education has also got to be opened up. It has got to be opened up in a manner which is suitable to us."
He also pooh-poohed the growing concern among alumni of the Indian Institutes of Technology and the Indian Institutes of Management that American universities and colleges, which have been setting up shop in India, are luring the top faculty at IITs and IIMs with better compensation, thus diluting the quality of education in these premier institutions.
These alumni have also said the fact there has been no review of the compensation system for faculty at the IITs and IIMs was compounding the problem. The bureaucracy in India, they argued, did not want compensation for the faculty to be greater than their own, leading to this impasse.
Thus, they have called for some deregulation so that there can be a revamping of this system.
Pitroda told rediff.com, "It is already happening. The professors are well compensated now. If you look at our Knowledge Commission portal, you'll fund that all of these things have been addressed and it is happening slowly but surely -- the pay scale of professors in India today is pretty good compared to what it used to be not even three years ago."
Pitroda said, "One of the most important things we did recently is pass the bill for Right to Education, which is the most prominent bill and nobody even noticed it. It's the first Right to Education Bill in the history of India."
"And, we are also doing a bill on higher education and these will incorporate a lot of the reforms we have called for in the Knowledge Commission regarding a lot of the things you referred to and it's already in the works," he added.