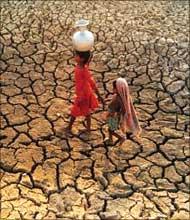 A severe drought has the potential to restrict the country's economic growth to 5.5 per cent, the Planning Commission has said.
"In the worst case scenario of farm sector GDP declining by 6.0 per cent, overall GDP could be limited to 5.5 per cent," said a note on the current economic scenario prepared ahead of the meeting of the full Planning Commission to be chaired by Singh.
In case the damage to the farm sector remains limited, as is anticipated, the economic growth rate would slip to 6.3 per cent from 6.7 per cent recorded during the last fiscal.
The projection of 6.3 per cent growth rate for the current fiscal is based on the assumption of 2.5 per cent decline in farm sector output due to drought conditions.
The planning commission's projections come just a day before Prime Minister Manmohan Singh is slated to review the state of the economy at a full plan panel meet.
The Central Statistical Organisation on Monday released the growth data for the first quarter of the current fiscal (April-June 2009) revealing deceleration in economic growth to 6.1 per cent from 7.8 per cent during the corresponding period last fiscal.