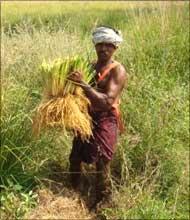 The agriculture growth slowed down to 2.4 per cent in the April-June quarter this year from 3 per cent in the same quarter last year.
"The first quarter (agriculture growth) doesn't mean much. Basically it is based on (the output of) the rabi (which concluded in June). But the farm GDP growth may be revised upwards for the last fiscal from 1.6 per cent to about 2 per cent," Planning Commission Member Abhijit Sen told PTI.
Agriculture contributes 18 per cent to the GDP and though the sector recorded 3 per cent growth in the first quarter last year, the overall growth for the year was a modest 1.6 per cent.
First quarter performance, which is based on the output of winter-sown crops, saw cotton production slump by 10.5 per cent and sugarcane by 22.1 per cent, according to the data compiled by the Central Statistical Organisation.
However, rice output increased by 3.8 per cent, wheat by 2.6 per cent, coarse cereals 25.6 per cent, oilseeds 13.6 per cent and pulses 18.2 per cent, the data showed.
Asked if drought in about half the country will affect agriculture growth, Sen said, "Of course, it will. And the impact will be reflected in Q2 and Q3."