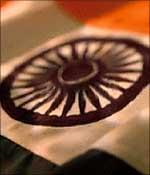 Showing signs of recovery, Indian economy grew by 6.1 per cent during the first quarter of this fiscal, the highest since the global financial meltdown hit the shores last September, but erratic monsoon may dampen growth in coming quarters.
Despite manufacturing and some services like hotels still to come out of the crisis fully, GDP improved marginally from 5.8 per cent in the previous two quarters, though it was much higher at 7.8 per cent in the first quarter of last fiscal, according to figures released by the Central Statistical Organisation on Monday.
The rate makes India the second fastest growing economy among major countries after China, which recorded 7.9 per cent growth in April-June quarter.
However, stock markets discounted GDP numbers with the key equity index Sensex down 220 points.
Among sectors, except for manufacturing, farm, trade and hotel, others particularly mining, electricity and financing, performed quite well. However, agriculture production may be impacted by weak monsoon in coming quarters, analysts said.
The worst hit sectors were trade, hotels, transport & communication, posting 8.1 per cent growth in the first quarter this fiscal compared to 13 per cent a year ago.
Manufacturing was down to 3.4 per cent against 5.5 per cent and agriculture to 2.4 per cent versus 3 per cent.
The growth is in line with the RBI and the government's expectations, which peg it to six per cent with an upward bias.
"I am glad that worst may be over and we expect to see improved performance in subsequent quarters. It (GDP numbers) is very good, it is consistent with what we were hoping for," Planning Commission Deputy Chairman Montek Singh Ahluwalia told reporters.
With encouraging June quarter rates, the government expects the economy to grow at 6.5 per cent this fiscal.
"We expect the (GDP) growth rate to be 6.5 per cent or above. Growth in the economy was very encouraging and it is expected to improve further going forward," Finance Secretary Ashok Chawla told reporters in Mumbai.
Electricity generation and mining output were the best performers as they grew by 6.2 per cent and 7.9 per cent in the first quarter of this fiscal against 2.7 per cent and 4.6 per cent a year ago, respectively.
Financing, insurance, real estate and business services also expanded by 8.1 per cent against 6.9 per cent. Construction was slightly down to 7.1 per cent from 8.4 per cent and community services by 6.8 per cent from 8.2 per cent.
But the government's optimism is not shared by everyone.
HDFC Bank chief economist Abheek Barua said,"We are expecting 5.8 per cent for the entire fiscal, which means that growth in second and third quarters should come down."
Farm production may be lower in the coming two quarters, he said, adding that industry and services sector may partly offset the dampening effect.
On farm sector growth, Crisil principal economist D K Joshi said monsoon could impact agriculture from third quarter onwards, but that would impact inflation more than GDP.
Joshi said his organisation would take a call on revising current expectations of 6-6.5 per cent growth for this fiscal later. "It is not likely to be revised upwards. Downward risks are more," he said.
Meanwhile, Planning Commission, which is expecting 6.3 per cent growth this fiscal, will meet tomorrow to take stock of the economy.
During the first quarter, when the Rabi crops are harvested, rice, wheat, coarse cereals and pulses recorded growth rates of 3.8 per cent, 2.6 per cent, 25.6 per cent and 18.2 per cent respectively from last year.
Among commercial crops, production of oilseeds increased by 13.6 per cent during Rabi, while that of cotton and sugarcane recorded (-) 10.5 per cent and (-) 22.1 per cent, respectively during the agriculture year 2008-09.
Industries are also showing signs of early revival, though they are yet to recover fully from the slowdown. Growth for June quarter jumped to 7.8 per cent from a meagre 1.2 per cent and 2.2 per cent, in the previous two quarters respectively.
According to Commerce Minister Anand Sharma, industry grew by seven per cent in July.