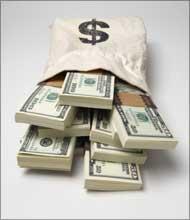 The US Federal Reserve has earned a whopping $14 billion profit on loan programmes made in the last two years, says a media report.
Attributing to Fed officials The Financial Times reported that the Federal Reserve has made a $14 billion profit on loan programmes that provided hundreds of billions of dollars in liquidity to the financial system since the start of the crisis two years ago.
The report said the internal estimate is based on the difference between the fees and interest on the lending facilities and the interest the Fed would have earned had it invested the funds in three-month Treasury bills.
The daily noted that the central bank earned about $19 billion as income by charging interest and fees from financial institutions and investors that tapped the new facilities to obtain much-needed funds during the turmoil.
The interest the Fed would have earned by investing the same amount in Treasury bills was an estimated $5 billion, missing out on a $14 billion gain since August 2007, it added.
According to the report, the calculation by the Fed staff, which has neither been audited, published or risk-adjusted, only deals with its liquidity facilities.
The most profitable liquidity programmes were the commercial paper one, which is one of the riskier facilities of the Fed because participants do not post collateral and foreign exchange swap agreements, followed by the Term Auction Facility (TAF), the report said citing to the New York Fed staff.
The FT said estimates exclude Fed company-specific bail-outs and purchases of long-term assets. Also, the estimates do not include unrealised gains or losses on its portfolio of mortgage-backed securities and Treasuries purchased as part of its $1,750 billion asset purchase programme that provides an additional stimulus to the economy.
© Copyright 2021 PTI. All rights reserved. Republication or redistribution of PTI content, including by framing or similar means, is expressly prohibited without the prior written consent.