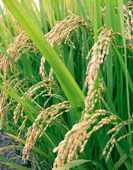 The world foodgrain production is expected to be lower by 2.5 per cent to 1,748 million tonnes in 2009-10 even as the International Grains Council slightly improves its forecast for the current month.
In 2008-09, the global foodgrain production stood at 1,792 million tonnes."An unexpected good yield in the EU and improved prospects for US maize and spring wheat, resulted in a further 15 MT increase in the world grain production forecast to 1,748 MT, only 2.5 per cent short of the 2008 record," IGC said.
Till last month, UK-based IGC had pegged the global foodgrains production at 1,733 million tonnes (MT). However, it revised it slightly upward by 15 MT in its August report after gauging the improved crop prospects in the US and Europe.
According to IGC report, the global wheat output is pegged at 662 MT, an increase of 8 MT from last month, as yields exceeded expectations in the US, Europe, Ukraine and China.
Similarly, the world maize output is forecast to be 787 MT in 2009-10, an increase of 7 MT from July forecast, but short of 2MT from 2008-09 season, it said.
Meanwhile, global consumption is forecast to rise by five million tonnes from last month to a record 1,741 MT, mainly because of increasing use of maize to produce ethanol in the US, the report said. 
IGC also noted that the consumption of foodgrains for feed purpose is expected to be lower than 2008-10 because of less on-farm feeding in some countries and rising use of non-grain ingredients.
Interestingly, the global ending stock in 2009-10 is expected to be highest for eight year at 361 MT, compared with 354 MT in the last season, it said.
Noting on prices, the report highlighted that wheat prices were under pressure last month following better-than- expected harvest in the US and EU, further boosting the global crop outlook.