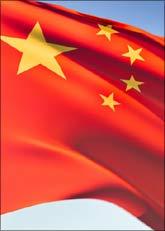 In a move that threatens to put Chinese telecom equipment makers nearly out of business in India, the department of telecommunications, or DoT, citing security concerns, has asked private operators to avoid using their equipment in 20 of the 29 states.
DoT, the body that makes telecom policy, and private operators were huddled into a meeting a couple of days ago to discuss the issue. The companies are questioning the directive on the ground that it would increase the price of equipment -- the Chinese, as in most sectors, are known for the low prices of their equipment -- and lead to a monopoly of European vendors.
Many of the new entrants in GSM mobile telephony are using Chinese equipment. These include Reliance Communications, Unitech Wireless, Aircel and Datacom. "Apart from the fact that the Chinese offer lower prices, European vendors that have tied up long-term contracts with Airtel and Vodafone are not ready to talk to us. So the Chinese are the only option for us," says the senior executive of a new entrant.
This has made the two Chinese vendors, Huawei Technologies and ZTE, a force to reckon with in India and helped them appropriate more than 20 per cent of the $7-8 billion-a-year market.
Naturally, they are peeved at DoT's move and say it has nothing to do with security concerns. "If they turn us away, project costs of operators will go up by 40-50 per cent. Our principals in China are telling us to wait and watch, but if we are not welcome we will pull out," says one of them. The two have been in India for a decade and have supplied equipment even to state-owned telecom companies.
Earlier, in the case of state-owned Bharat Sanchar Nigam Ltd's tender for 93 million GSM lines, DoT decided to keep out the Chinese from states that shared borders with China, Myanmar, Bangladesh and Pakistan.
Now, it wants to keep them out of private companies' orders and expand the list of states where their equipment cannot be used, leaving only a few states in the south open to them.
However, all is not over for the Chinese. DoT and private operators have agreed to hold discussions together with the Ministry of Home Affairs, after which the ministry will come out with draft guidelines in four weeks.
The meeting was attended Tata Teleservices CEO Anil Sardana, Manoj Kohli of Bharti Airtel, and executives of Reliance Communications and Sistema-Shyam, among others.
Apart from the security concerns with regard to Chinese equipment, they were to discuss a slew of recommendations by DoT. These included taking over operation and maintenance from foreign OEM vendors in two years and using multiple vendors to avoid large-scale break-down of services.
The operators did not accept a DoT proposal to incorporate a clause that would make transfer of technology mandatory. They accepted DoT's suggestion of an extensive security audit before operationalising services.