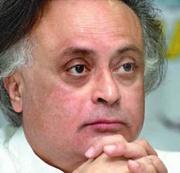 Union Minister of State for Environment and Forest Jairam Ramesh on Monday had a closed door meeting to discuss India's approach with five Members of Parliament who will be part of the all-party delegation to the Copenhagen Climate Change Conference starting on December 7.
In the team are: Former Union minister and senior BJP leader Murli Manohar Joshi; renowned agriculture scientist M S Swaminathan; CPI(M) politbureau member Sitaram Yechuri; Biju Janata Dal's Bhartruhari Mahtab; and Congress's Hameedulla Sayeed, son of late former deputy speaker P M Sayeed.
The one-hour-long briefing was attended by senior officials of the ministry dealing with this subject.
The United Nations Climate Change Conference in Copenhagen will be assisted by a high-level parliamentary team of five MPs to prevent any slip-ups. The conference is scheduled from December 7 to 18.
Lok Sabha Speaker Meira Kumar took the personal decision of sending the MPs' team to Copenhagen to ensure that the Opposition does not later grumble over a 'sell-out' by  the government.