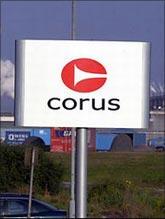 The Tata Steel-owned steel maker Corus is preparing for a major rebranding initiative, which can result in the 11-year-old Corus badge being replaced with the Tata brand name.
The £12-billion (nearly Rs 93,000-crore, at latest exchange rate) Corus' legal identity was changed last November to Tata Steel Europe.
The change in the brand name can show up on the company's locations, stationary and vehicles. The rebranding process, if approved by the company, is expected to commence next summer.
A Corus spokesperson said: "Tata Steel can confirm its intention to adopt the Tata Steel brand as the visual identity of its Corus operations, continuing a transition that began more than a year ago when Tata Steel Europe became the legal name for Corus. Should the next stage of this transition get final approval, implementation is expected to start by the middle of 2010."
Corus is yet to formally decide on the makeover. According to sources in Tata Steel, the company had appointed in-house teams and external agencies to work out a proposal, which will have to be ratified by the management. The cost of this rebranding exercise is not known yet.  "If approved, the implementation will be in a phase-wise manner," the sources said.
Corus, as an entity, was founded in 1999 with the merger of British Steel and Koninklijke Hoogovens. In April 2007, Corus became a subsidiary of Tata Steel in a deal which cost the Indian steel maker $12 billion (over Rs 55,000 crore, at latest exchange rate).
Corus is the single largest unit under the Tata Steel banner. It contributes nearly 70 per cent of the group's 28-million-tonne crude steel production capacity and employs half of its 80,000-strong workforce.
Tata Steel has rebranded Thailand's Millennium Steel -- which it acquired in 2005 -- as Tata Steel Thailand. According to sources, this rebranding as Tata Steel Thailand is still under different stages of implementation. However, Singapore-based NatSteel, which was acquired in 2004, is yet to be rebranded.
"We are not rebranding NatSteel as yet. We are taking up Corus now," sources said.
Apart from Corus, the other major brands Tata owns in the UK are Tetley Tea and Jaguar-Land Rover (JLR). While the websites of Corus, Tetley and JLR carry the 'Tata Enterprise' tag, Tetley Tea carries the Tata name on its products as well. Now, even with a strong brand identity, JLR products carry the Tata brand name too.
In the case of Corus, it is not yet clear how the Tata brand name would reflect on products that have a presence in over 50 countries across the world.