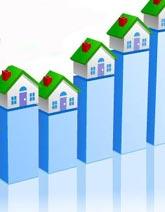 After calling State Bank of India's 8 per cent home loan offering 'a gimmick', Housing Development Finance Corporation jumped on the dual-rate bandwagon yesterday with its 'festive' 8.25 per cent offer for home loan seekers.
The offer, which will be valid for loans sanctioned till January 31, 2010, is likely to provide more options to potential home buyers. Already, there are a number of players offering attractive rates.
If one goes simply by numbers, the lowest rate is offered by Bank of Rajasthan (BoR) -- at 7.5 per cent per annum -- a good 50 basis points less than the SBI offer. Development Credit Bank is offering 7.95 per cent for the first year.
Then, there are a lot of players who are offering 8 per cent rate in the first year such as Axis Bank Power Plus, State Bank of Bikaner and Jaipur and Canara Bank.
But for home buyers, the first year rate should not be the most important factor. Reason: Home loans are normally for a period of 15 to 20 years.
Consequently, if the rate is low in the first few years and shoots up later, home buyers are going to find themselves under serious financial strain.
SBI offers 8 per cent for the first year and 8.5 per cent for the second and third year. The rate will be 2.75 per cent less than its benchmark rate or the State Bank Advance Rate from the fourth year onwards.
HDFC's dual-rate offering is quite comparable at 8.25 per cent till March 2012, and then at a floating rate which is 500 basis points below their benchmark.
So, if you take Rs 25 lakh (Rs 2.5 million) for 20 years from, say BoR, the equated monthly instalment for the first year will be Rs 20,140.
For a similar loan from SBI and HDFC, your first year monthly outgo will be Rs 20,911 and Rs 21,302, respectively.
The savings from taking a BoR loan will be Rs 771 per month (Rs 9,252 a year) and Rs 1,162 per month (Rs 13,944 a year) for SBI and HDFC, respectively. Not a significant number if one considers that home loan is a long-term product. In the second and third year, HDFC (till March 2012) will charge 8.25 per cent, whereas BoR and SBI are offering 8.5 per cent.
Before deciding on the best rate, one also has to look at costs such as processing fee. BoR charges 0.5 per cent to 1 per cent of the loan amount, HDFC 0.5 per cent and SBI nil.
For a person, who is taking a Rs 25-lakh loan, the processing fee for the BoR loan comes to Rs 12,500 to Rs 25,000. For HDFC, it will be Rs 12,500, and for SBI, the cost is zero. As a result, savings on the BoR product in the first year gets wiped out due to higher costs.
From the fourth year, the floating rate will be a function of the bank's existing cost of funds and the benchmark rate.
Though it is quite difficult to predict the future rate of interest, to get some idea about the outflows, one can use today's benchmark rates and calculate the average rate of interest per year.
And the number would look something like this. BoR is offering the best rate at 8.53 per cent, followed by HDFC and Axis Bank at 8.63 and 8.65 per cent, respectively. At 8.76 per cent, SBI's rate comes fourth.
THE RATE CHART
Bank
Initial
interest rate
Average
interest rate
Bank of Rajasthan
7.50
8.53
HDFC

 

8.25
8.63
Axis Bank
8.00
8.65
SBI
8.00
8.76
SBBJ
8.00
9.08
Development Credit

 

7.95
9.08
Canara Bank
8.00
9.33
Source: ApnaPaisa Research Bureau; figures in per cent
Bank of Rajasthan offers 7.5% fixed rate for the 1st yr, 8.5% fixed for 2-3 yrs, and charges 8.75% from 4th yr onwards. Axis Bank Power Plus offers 8% fixed for the 1st yr, while for more than one year, it offers mortgage reference rate, currently 12.25%, minus 3.5%. SBI offers 8% fixed for 1st yr, 8.5% fixed for 2-3 yrs, while 4th yr onwards, the rate is 2.75% below SBAR. SBBJ offers 8% fixed for 1st yr, 9% fixed for 2-3 yrs, while 4th yr onwards, the rate is 2% below SBAR. Canara Bank offers 8% fixed for 1st yr, 9% fixed for 2-5 yrs, BPLR minus 2.5% for above 5 yrs, subject to a minimum of 10%.
This rate war gives the potential borrower a lot of options. For individuals, who want to buy a home now, the entry rates are very competitive. They can pay lower EMIs now, and pay higher when their incomes improve after three years.
Further, this is a good option for borrowers who want to shift their high-cost existing loans to cheaper options. That is, most existing borrowers are paying in excess of 10 per cent. It is a good option to shift now.
However, they will need to work out the cost of shifting as it entails a prepayment penalty.