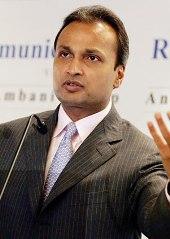 Anil Ambani group firm Reliance Media World, got listed at Rs 89.75 on Friday on the Bombay Stock Exchange.
The shares of the company, which operates radio station Big 92.7 FM, opened at Rs 89.75 and soon gained momentum to touch a high of Rs 138.40 on the BSE.
Explaining the surge in the counter, marketmen said the uptrend was largely due to the fact that the stock is yet to find its actual price, post demerger.
Reliance Media World, was demerged from Reliance MediaWorks in August. The company runs 45 radio stations, enjoying a 22 per cent market share in terms of advertisement-share volume.
Reliance Media World's CEO Tarun Katial has said the firm is getting listed to unlock shareholder value, and will break-even this fiscal at EBITDA level and start clocking profits from FY'11 onwards.
The company is the second radio station to be listed on the bourses after Entertainment Network, which runs Radio Mirchi. The surge in the counter assumes significance as the broader market was almost flat in late morning trade.
"Reliance Media World takes forward the Reliance Anil Dhirubhai Ambani Group's establishment in the media space. We are now part of a strong framework which will benefit us in terms of strengthening our leadership position, in the media and entertainment business," Katial had said.
Image: Anil Ambani