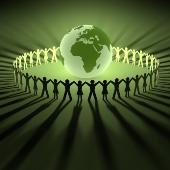 India is planning to invest over Rs 74,000 crore (Rs 740 billion) within the next five years to improve energy efficiency and cut carbon emissions from its power sector. Coal-based power generation plants account for around 60 per cent of India's total carbon emissions.
The country's biggest power producer NTPC Ltd has already decided to invest Rs 0.5-1 crore (Rs 5-10 million) per megawatt of capacity to renovate and modernise its coal-based capacity, especially of plants built before the nineties, said its chairman and managing director R S Sharma.
"The overall investment (in the sector) required to flow for achieving our energy efficiency targets has been worked out to be close to Rs 74,000 crore (Rs 740 billion) by 2015," said a senior official from the Bureau of Energy Efficiency, the apex body for planning and implementing energy efficiency services in India.
These initiatives are expected to result in a reduction of 98.5 million tonne of carbon dioxide over the entire period, according to findings by BEE and the ministry of power.
India emits around 540 million tonne of CO2 annually from the current coal-based capacity of 81,355 Mw. Overall emission levels may, however, go up with the addition of more coal-based capacity.
Although the Indian economy is considered as one of the least energy-intensive among the world, the government has projected a 20 to 25 per cent cut in emissions intensity by 2020, ahead of the Copenhagen climate change summit beginning Monday.
"The Planning Commission has estimated that our emissions will increase but, the emission intensity could be cut by 20 to 25 per cent. This means that our emissions will increase but at a slower rate," minister for environment and forests Jairam Ramesh had said in Parliament last week.
NTPC has chalked out a four-pronged approach besides earmarking 0.5 per cent of its annual profit, totalling roughly Rs 40 crore (Rs 400 million), towards its climate change mission.
"We are using ultra supercritical technology, working on Integrated Gasification Combined Cycle, diversifying into renewables and working on improving efficiency of existing power plants," said Sharma.
The cost of installing super critical power generation equipment is typically 15 to 20 per cent higher than the cost of installing conventional power plants. Super critical plants can, however, achieve efficiencies of over 40 per cent compared to 35 per cent in conventional sub-critical power plants.
Super critical technology uses less coal to generate the same amount of power and is thus believed to be environment- friendly.
While 12 supercritical power generating units of 660/800 Mw are currently under construction in India, most of this capacity will come up in the 12th Plan period beginning April 2012.
Another initiative is the use of IGCC technology in plants, which can make coal-based power generation 10 per cent more efficient. For every 1 per cent rise in efficiency, there is a 2 per cent decrease in CO2 release.
All these initiatives, according to sources, would lead to a total of over 20,000 Mw of 'avoided' capacity addition by 2015. This would also mean an overall avoided investment of Rs 1,95,980 crore (Rs 1,959.8 billion) in the three sub-sectors of generation, transmission and distribution in the same period.
India is likely to add over 60,000 Mw iby the end of the current Plan period against the targeted 78,700 Mw.
The Planning Commission has also called for more money for research and development to study the impact of climate change in India. "The Integrated Energy Policy had recommended Rs 1,000 crore (Rs 10 billion) investment for R&D on climate change. The amount needs to be increased," said B K Chaturvedi, member, Planning Commission.