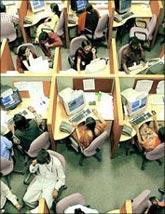 The ripples of inflexible labour laws and active labour unions -- which affected information technology outsourcing by European countries, especially France and Germany -- are now being felt in the Nordic region, too.
Recently, protests by the staff union forced Handelsbanken, a leading Swedish bank, to award the IT outsourcing contract to a local company after cancelling plans to award the contract to an Indian Tier-I vendor.
Handelsbanken had issued Request for Proposals (RfPs) for a contract to software vendors across the world to maintain its legacy mainframe systems and developing software applications, worth an estimated $100 million (around Rs 460 crore). Most Indian IT services companies, including TCS, L&T Infotech and Wipro, participated in the bidding process. The bank had even shortlisted two companies, including a Tier-I Indian software company.
"They had nearly awarded the contract to a Tier-I company in India. But the news leaked out to the labour union at the last minute and it created a lot of ruckus. Finally, the bank (Handelsbanken) ended up giving the contract to a local company, TietoEnator," highly-placed sources privy to the development told Business Standard.
The bank declined comment saying: "It is Handelsbanken's official policy to discuss contractual relationships only with the parties involved."
Most Indian IT services companies consider the Nordic region as one of the most preferred markets for IT outsourcing. Many enterprises in the Nordic region outsource work to offshore vendors because of the high costs and dearth of local IT firms.
Many companies in the Nordic region were actively looking at Indian IT outsourcing services provider to check growing costs, especially due to the global downturn. 
Wipro had to succumb to the labour unrest by announcing adequate compensation to its employees in Sophia Antipolis centre in France where the company planned to close down a division.