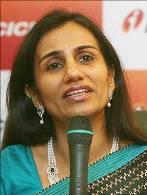 The country's largest private bank, ICICI Bank, on Friday said it is focussing on the home loan segment as the real estate segment is witnessing a comeback after the economic slowdown.
"We are focussing on the home-loan segment at the moment as there is a lot of activity in this sector (home)...people who stopped buying a few months ago, are back again," ICICI Bank's Managing Director & CEO Chanda Kochhar said.
The bank had recently launched a home loan scheme under which 8.25 per cent interest rate will be fixed for the first two-years for loans sanctioned from December 1, 2009 to January 31, 2010, irrespective of the loan amount.
The first disbursement of the loan should be availed before March 31, 2010. From the third-year onwards, the lender would charge a floating interest rate depending upon the then prevailing floating reference rate.
© Copyright 2021 PTI. All rights reserved. Republication or redistribution of PTI content, including by framing or similar means, is expressly prohibited without the prior written consent.