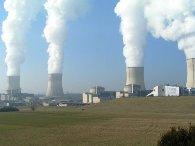 The union government is planning to set up energy parks in the states of Gujarat, Maharashtra, West Bengal, Andhra Pradesh and Tamil Nadu with a target to generate 60,000 MW of power through use of nuclear fuel, Srikumar Banerjee, chairman, Atomic Energy Commision (AEC) said.
After inaugurating DAE Solid State Physics Symposium jointly organised by Bhabha Atomic Research Centre and the Maharaja Sayajirao University, Banerjee said the identification of sites for setting up of energy parks in each of the five states is over. Issues like environment and public opinion related to the setting up of the energy parks were being addressed, he added.
The energy parks would be built by Nuclear Power Corporation of India on its own or through participation by the private sector. The energy parks or power stations would increase quantum of nuclear power generation and could account for 10 per cent of the country's total estimated requirement of 6,00,000 MW of power by 2030.
Banerjee said huge reactors capable of generating 1,000 MW and 1650 MW will be used at these parks. For now, the work on setting up new four Nuclear power stations with each one having an installed capacity of 700 MW is being taken up at Mithivirdi in Gujarat, Haritpur in West Bengal, Kudaipunal in Tamil Nadu and in Andhra Pradesh.
Three of these four stations will use uranium as fuel available indigenously while uranium imported from Russia will be used as fuel at the Kudaipunal power station, he said.
These power stations are part of energy parks to be set up in these states, Banerjee said. He also made it clear that the plants using imported uranium as fuel, will be under inspection of IAEA while those using indigenous uranium will not be subjected to its scrutiny.
He said availability of funds for setting up nuclear power plants would not be a problem as Nuclear Power Corporation of India would be entrusted with the job which could rope in private participation.