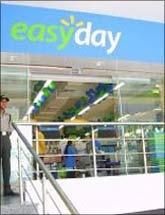 The Bharti group has a presence in retail through two ventures-- Bharti Retail, a 100 per cent subsidiary, and a 50:50 wholesale cash and carry joint venture with Walmart Stores.
It is targeting revenue of Rs 1,000 crore (Rs 10 billion) from its retail operations by 2011-2012 (from a non-significant base currently), as it expands stores in newer geographies, Rajan Bharti Mittal, vice-chairman and managing director, Bharti Enterprises, tells Pradipta Mukherjee in an interview. Excerpts:
What are your expansion plans for Bharti Retail?
We have 70 stores now, which we plan to increase to 200 in one year. Most of these would be under our brand 'Easy Day'. We already have 'Easy Day' neighbourhood stores in Punjab, Haryana, Rajasthan, Uttar Pradesh and Delhi, and compact hypermarkets called 'Easyday Market' in Punjab. The Easy Day format is typically a 30,000 sq ft store, offering over 15,000 products in home ware, electronics, mobile phones, food and groceries, etc. As of now, we have stores in North India. Beginning 2011, we intend to move to other states as well, especially in West and South India.
What kind of investment and revenues are you looking at?
We had announced plans to invest $2 billion (Rs 93.50 billion) till 2017. We expect revenues of Rs 1,000 crore (Rs 10 billion) by December 2011, by when we would have completed three years of operations in India. These stores sell around 16 per cent products under private labels, typically manufactured by one company but offered under another company's brand.
Do you intend to expand the private labels business, since margins are higher in this category?
We expect contribution from private labels to increase. Currently, we have 16 per cent private label products in all items. The global benchmark is that private label products should vary between 20 and 40 per cent of total products in an organised retail store, and our target is to increase it to the global benchmark level by December 2011.
Any change in product sourcing in the pipeline?
We will continue to source local products from local suppliers that appeal to local tastes, needs and fashions. As a wholesale cash-and-carry business, our endeavour is to work with and develop local suppliers and create local beneficiaries along the supply chain. Our customers are retailers and consumers of all sizes.
What are the challenges right now?
Recession apart, one of the critical components we are building is a strong back-end infrastructure. We are also trying to bring in modern processes and technologies in the area of supply chain, logistics and cold chain that should ultimately benefit the entire retail ecosystem through better quality, and more choice at better prices.
Are you likely to experiment with any other store formats?
We are looking at large format stores as of now. The Bharti Walmart business-to-business wholesale cash-and-carry joint venture serves kirana stores, restaurants and other business owners, as well as other retailers such as Bharti Retail, which is setting up a chain of stores in India that are 100 percent owned and operated by Bharti.