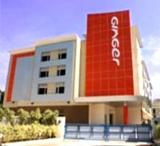 Scenting opportunity in the budget hotel segment, diversified conglomerate Tata Group plans to construct 50 hotels of its no-frills chain-- Ginger-- across India in the next four years.
Indian Hotels Company Ltd (IHCL), the group's listed hospitality firm, owns 20 Ginger hotels in the country through its subsidiary Roots Corporation Ltd (RCL).
"Clearly, there are signs that inbound tourist traffic is gaining momentum. In the next 3-4 years, we'd love to build a total of 70 hotels if not more. So, at an average of 100 rooms per hotel, our inventory would go up to 7,000 rooms during this period," Roots Corporation Ltd, Chief Executive Officer, Prabhat Pani told PTI.
While not specifying the quantum of investment, he said the capital requirement would be met through debt and equity from parent company IHCL.
The company has commenced work on hotels in Chennai, Surat, Indore, Tirupur, Manesar and Lucknow, he added.
"Current development in the budget category is low. There are not many players in this segment and so there is immense opportunity here. By 2011, about 25,000 new upscale rooms are expected in major Indian cities versus nearly 18,000 rooms in midscale and budget segments," Pani said.
RCL last week inaugurated second Ginger hotel in Pune and is scouting for land to set up two more in the city.
Mumbai and Delhi coupled with the National Capital Region (NCR) will be our biggest markets. Our Surat and Indore properties are in advanced stages of construction. In Maharashtra, we are looking to set up hotels in Nanded, Nagpur and two more in Pune," Pani said.
There are 20 Ginger hotels across Agartala, Ahmedabad, Bangalore, Bhubaneswar, Durgapur, Durg, Goa, Pune, Mangalore, Thiruvananthapuram, Guwahati, Haridwar, Jamshedpur, Ludhiana, Mysore, Nasik, New Delhi, Pantnagar, Puducherry and Vadodara.
Ginger offers modern conveniences and facilities like tea/coffee maker, Wi-Fi connectivity, 20-inch wall-mounted LCD TV, self-controlled AC and mini-fridge among others at rates ranging from Rs 1,000 to Rs 1,700.
Roots Corp, whose first few hotels were built by acquiring land, is open to expansion through redevelopment of existing properties, replacement of guest houses and via public private partnerships, he said.
The company's hotel in New Delhi has been built in partnership with government-owned railway agency IRCTC.
"If we can buy land, we'll buy and set up a hotel. We may lease or we may get into a management contract. It's important for us to be in the market. We are aiming for a growth rate higher than that of the industry," Pani said.
He added that occupancy across all 20 properties in the past three months stood at between 65 per cent to 75 per cent, while they are fully booked for Christmas and New Year.