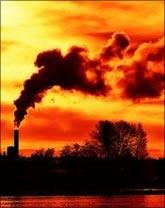 Despite being the fourth largest economy, India's per capita emission levels are 70 per cent below world average and 93 per cent lower than those in the United States, says a latest report on climate change.
Jointly prepared by business chamber Assocham and consultancy firm Ernst & Young, the report highlighted that carbon emissions in India increased by 65 per cent between 1990 and now and are projected to grow by close to 70 per cent in the next decade or so.
But it remained low as compared to other major economies, accounting for only two per cent of cumulative energy related emissions since many decades.
On a per capita basis, India's emissions are 70 per cent below world average and 93 per cent below the level in the US.
Thus, following principle of common but differentiated responsibility, India maintains that major responsibility of curbing emissions rests with developed countries, which have accumulated emissions over a long period of time, pointed out the report that comes at a time when tough negotiations are on at the Copenhagen climate meet.
Quoting the findings, Assocham President Swati Piramal said in a statement that India's greenhouse gas intensity is currently close to 20 per cent lower than world average and 15 per cent and 14 per cent lower than the US and China, respectively.
The report has attributed to decline in energy intensity to improved energy efficiency, increased use of renewable and nuclear power, enhanced public transport system and energy pricing reforms.
On the issue of effects of climate change on the society, Piramal said it will have adverse impact on the necessities and comforts of life, including water, food, energy, health, transportation, recreation and so on.
Further, vulnerability to climate change can be worsened by other societal and human-induced issues as those that arise from, for example, poverty, unequal access to resources, insecurity relating to food and incidence of diseases.
Climate change will also result in drastic changes in run-off patterns and in glacial melting which is expected to add to the ecological crisis by having an adverse impact on supplies for irrigation and human settlements, the report said.